Aug'02-Oct'02

From Webster we headed back to my cousinís place in Shokan, NY. Good place to stop and get caught up on maintenance, cleaning etc. Plus we had to pick up our weapons. Were only going to be there for a few days and head to Niagara Falls. Within a day or so I came down with bronchitis. Iím sure it was from the smoky days in Mass & RI. Kay took me to the VA in Albany and got my meds. When I get down with bronchitis it kicks my butt. There was no way I could leave for awhile. B&D needed to be in In. at the factory for their 5th wheel to get the tire damage fixed. So they headed to Niagara Falls and we stayed in Shokan. Planned on meeting again in Wi. I ended back at the VA again as the bronchitis wasnít going away. More meds. One day we met my B-Aunt Jessie & her son, Tom, in Middletown at my B-momís grave. She had just had eye surgery and wasnít sure she could get up there from Long Island. I am so glad they made it.

When we were finally able to leave Shokan we bade Bob & Liz goodby and headed to Detroit area. My B-Aunt Marcella and her husband Wesley lived across the river in Windsor, Ont. We had also received a call from our friends Linda & Willie Guluarte. They were heading to the Detroit area also. Kay & I stayed at the campground on Selfridge AFB and Linda & Willie were about 20 minutes north. It was great meeting them again as always. Kay has known Linda since school days. They are people that we would go out of our way to meet. Good folks.

We went to Windsor on Wesleyís 80th birthday. I had never met them before. This day we not only met them but their friends. What a great crowd. From the stories we heard it sounds like they are just like us. Always ready for fun.

We will get back to see them again.

We are in Aug now. Headed to the Upper Peninsula and found a casino that let us park in the lot overnight. Key went to the casino and I stayed in the MH. We only stayed one night as we were to meet B&D in De Pere, Wi. That is there home area. They lived there before they moved to Utah. We also met up with John & Libby Veach as they were workcamping for the summer at this campground. We first met them at the RVAMERICA get together in Harlingen, Tx a couple of years earlier. They are nice folks and itís always a pleasure to see them again. And my puter was there waiting on me. Yahoo! Also got to meet Bobís family. Had a couple of cookouts with them. They are good people like B&D but I expected that. Bobís daughter had been losing her hearing through the hereditary thing that Bob has. Before we arrived there she had been to DC for a cochlear implant. She had waited the proper time after the surgery and then went back for them to finish up. This was about a week before we got there. When we got there she was already up to using the phone. What a miraculous thing!! Bob is going to check into the operation for him when he gets to Utah. Sure hope it will work for him although we told him if he gets hearing back we are going to have them cut his vocal cords. :>) He canít have both and be around all of us. If you ever meet Bob you will understand.

Sadly the came for us to head to Illinois and B&D headed to Utah. It was a lot of fun traveling with them and we will do it again.

We arrived in Rantoul, Il and visited my brother and friends from when I lived there. After a couple of weeks we headed to Effingham, Il-Kayís hometown. We were there 2 days and her dad had a heart attack.

They ended up taking him to Springfield, Il and put a stint into one of his bypasses. He seems to be doing Ok now. Sure glad we were here to help him out. After he was feeling better he wanted Kay to take him to Tunica, Ms to a casino. Hmmmm--must run in the family. On the way back, after she got off the interstate and was cutting thru the country, she got a ticket for speeding.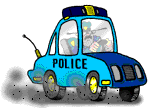 Had to really tackle maintenance this time. The ole diesel was losing power. Went to Cummins dealer and talked to them. He suggested a leak in the turbo. I checked it out and a clamp had come loose and the vibration had broke the top half and wore off part of the bottom half. After about $75 for parts and my labor it is back to normal. MORE POWER!!!! We had a leak somewhere around our waste storage area. Been there for a few months and we could not find it. Had RV places look at it--no luck. So I buckled down and started looking. Took apart the area under the kitchen sink and there it was. The drain hose had a big split in it. Right after we bought the MH the large mirror by the sink came loose and broke apart in that area. I feel that a piece of the mirror cut the drain hose and the moving in & out of the slide area caused it to eventually split. The flex drain was glued in at both ends and would have been a hassle to replace. Fortunately I carry "ETERNABOND" tape with me. This stuff sticks to anything. It is pricey but you get what you pay for. I will always have a roll with us as we travel.

We went down to the Marion, Il area for our VA appts. Lots of tests and they came out OK. While there we went to Harrisburg, Il to visit old friends. Also Kay went to the riverboat casino in Metropolis 5 times. She ended up $5000 (no typo) ahead. 2 of my tests were the ďclean out your systemĒ kind. So 2 of her trips were while I sat on the stool all night she was down there. Some lame excuse like odors & noises. Now back to Effingham til the end of the month when we head to DC. Was able to get together with Bill & Peggy Little, Don & Pat Farlow for dinner one evening. I graduated with Don & Bill. Bill is also going to bring his fish fryer over on fri for a fish fry with Kayís family.
I guess Iím caught up with as much as I can remember. See if I can get this posted before we leave for DC.