Jan'02-Feb'02
I was 'up & at 'em' again in time for New Years Eve,

naturally. We went over to Bev's and had a great time. Plenty of food, big bonfire in backyard & good company. Mike gave Bob a head light so he could read lips while in the backyard and then Bob proceeded to do a lighthouse impression. One of those "had to be there" things. I was given one of those 'fart machines' and thought this would be a good night to use it. It is operated with a remote control. I stuck the unit on back of a chair and sat anxiously awaiting my first victim. It was Bob.

Remember he is deaf. Kinda took the oomph out of it when he couldn't respond to the noise. By then the rest of the people knew what was going on. Oh well, there's always next time, perhaps when I am visiting one of you!
On the 4th of Jan we headed south. We had been watching the weather and a winter storm was heading for the Carolinas & Georgia. It was spitting snow but not sticking and it was an easy drive to Leesburg, Fl. We (Bob, Donna & us) went to that area to visit some friends we met at the first RVAMERICA rally--JW & Vassie Roberts. They had us set up at a small park nearby but we didn't care for it and the next day we moved across the road to Haines Creek RV Park. Nice place and great people running it. (Don & Sylvia). We visited with JW & Vassie at their retirement community. They live on one of the lakes. Within a day of us arriving, Donna's friend, Angela, from Utah flew in for 3 days. JW took us all on a float boat ride one afternoon and took us to some beautiful places that we probably would never have seen on our own. Plus all the wildlife---gators, birds, otters. That was a super trip. As evening arrived we navigated across the lake to the "Hungry Gator" and had supper and some more drinks. Angela talked our waiter (with us helping) out of his t-shirt by buying him a new one. The company one he had on had a lot better graphics. Told lots of jokes. Good evening. Navigating back across the lake in the dark was a treat but JW was up to it.
The campground where we stayed was on Haines Creek and had lots of water frontage with a large dock running alongside the shore. Beautiful place. We liked it so much we extended our stay by a month--thru Feb. Walking along the dock we could see a gator basking on a log across the creek. That was a treat for us as we never saw too many gators (none) growing up in Illinois.
Kay & I took a couple of day trips to visit family & friends. One was to a friend of mine from the late '59,

early '60 era. Larry & Cheryl Freeman. I met Larry when I was dating his sister in high school. I had dated her for a couple of years and had gotten close to the family. Back then we had a friend that wanted to get into the Hollywood makeup business. He was good and one day we made Larry up to look like an grumpy old man and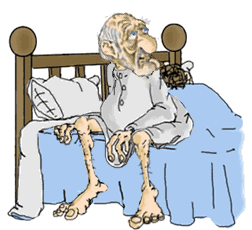 then took him shopping. he was very convincing. We would also get madeup as monsters for Halloween and on any Friday 13th. Looked good and made the local papers. I was Dracula. I gotta find where I stored those pics, scan them and put them on this site. Also the makeup guy and I would dress up as clowns for parades, grand openings, etc. On Xmas we would put on the clown stuff and visit nursing homes.
Another visit was with June Kiffer. She is the daughter of the people that took my adopted Mom as a foster child for a few years. I have not seen her since I was about 10 years old. A great day reminiscing and such. I was amazed at the similarities between her and my Mom. The expressions, sense of humor were close enough to remind me of Mom. The old debate of heredity vs environment. Here was this close resemblance between these two that had lived together for a couple of years (environment). Then there are the striking similarities between me and my birth family (heredity). I guess both influence us all.
Kay's Dad was in Tallahassee and drove down to where we were and we took him to visit his sister, Winona. Good food! We left him there for 2 days and then Kay went back to pick him up.
One day the 4 of us headed to Busch Gardens, Tampa. We went on tue the day after Presidents Day. Figured it would not be as crowded. WRONG!

The schools were on a break and the place was packed. The lines were too long for most rides but the animal attractions were fun. We are all "critter people" anyway. That was why we chose Busch Gardens instead of 'The Mouse' (Disneyworld).
While there I bought a metal detector. Thought it might be a good hobby for traveling. Harder work than I thought but enjoyable. The campground owner allowed me to detect the campground. Now I have to find only 29,964 more pennies and it's paid for! With all the different places we go it should prove interesting.
The rest of our time here was visits to JW & Vassie's place, boat rides, pulling maintenance on MH, visits to American Legion's, VFW's & AMVETs. And Kay went on 2 trips to gambling boats.
Oops, almost forgot. There was a premier of the movie at Ft. Benning, Ga. Bob & Donna said they would watch the dog so we headed up there in the truck for a couple of days. Got to see old friends again and make some new ones. They had a ceremony at the 'Iron Mike' statue before the movie. Speakers were Gen. Moore, Joe Galloway & Randall Wallace. Then on to the movie. We got free passes, popcorn & drinks. They had 3 theatres in the multiplex exclusively for the movie and they were full. The movie passed all my expectations. It gets very intense. It was tough to see it but we made it. I think what made it easier was it wasn't as intense as the real thing. Some things were missing (and best not shown)---the smell mainly. But I think if they could have gotten the smell in the theatre, the people would have left. What amazed me was after the movie was over, no one left or spoke until all the credits were over. The people in the other 2 theatres said the same thing. In the lobby afterwards I feel the consensus was 80% real & 20% Hollywood. Thats not bad considering all the other Nam movies that have been out that were so hokey. After we returned to Leesburg we went to see it again. I wanted to see it with people that were not involved with the movie in any way. The reactions were the same.
I'll catch up to you all in another couple of months.